The Patrón Spirits Commitment
Patrón Spirits International is committed to making a positive impact on the earth through industry-leading sustainability practices and a steadfast dedication to our employees, community and the world at large. This sense of responsibility is found at every touchpoint of our business, including manufacturing, bottling, and packaging. It also extends to charitable endeavors within Patrón's corporate offices across the globe.
Environmental Responsibility
At Patrón, we've taken important industry-leading steps to limit the environmental impact of tequila production, knowing that we make a better product when we support the earth while doing it.
Hacienda Patrón is the first distillery to use a natural gas pipeline as a main energy source to reduce CO2 emissions into the atmosphere and is home to a state-of-the-art water treatment process that uses reverse osmosis to recover 70 percent usable water that can be used throughout our facilities. We create more than 5,500 tons of fertilizer compost a year from leftover agave fibers and also help 10 neighboring distilleries and farms do the same. The resulting compost is then donated to fertilize agave fields and to help beautify green spaces within our community of Atotonilco el Alto.
We strongly believe in the importance of preserving the world around us and, since 2015, we have reforested and/or donated approximately 16,000 trees in our local area, including 3,000 lime trees right outside of Hacienda Patrón.
Additionally, we are proactively working with a top research center in Mexico to lead the creation of scientific knowledge to better understand Weber Blue Agave sustainability and to help ensure the future existence of this important plant.
We are just as committed to the people who help us craft Patrón as we are to the spirit itself. In a pioneering effort for the industry, we commit to a guaranteed minimum price paid to all of our agave growing partners to ensure they are profitable, even during times of excess supply, because that's how true partnerships work.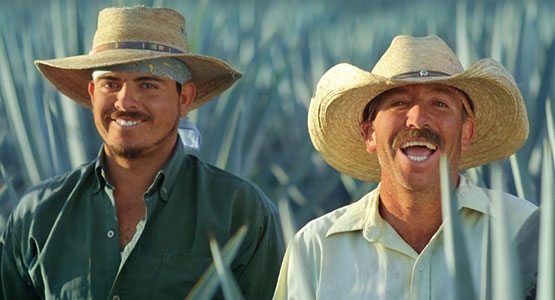 Without our Hacienda employees, we wouldn't be Patrón, so we are dedicated to creating a great working environment for them. We offer after-hours training to provide self-growth opportunities for employees who wish to enhance their education and work with local universities to reduce costs for any employee interested in obtaining a degree.
Hacienda Patrón offers top level safety conditions, flexible work hours, and free employee transportation. We also take time to celebrate important life moments together such as birthdays and cultural events. Additionally, as part of our commitment to the workplace environment, we have built a chapel at our distillery that is always open to all of our employees for worship.
Philanthropy & Giving Back
Patrón Spirits International is deeply committed to giving back to our local community and to causes around the world. As the home of Patrón, Jalisco's well-being is an important part of our legacy, so we work closely with the local food bank to provide food and supplies to over 1,000 families in the community. Local orphanages also receive food and supplies as well as funding and resources for education. We also provide support for the protection of our local heritage, including the restoration of a 250-year-old parish church.
Patrón's charitable causes extend well beyond Mexico, by providing support for organizations working to help children's health, hunger, clean water and the rebuilding of New Orleans. Together with founder John Paul DeJoria, Patrón Spirits International also works with the Waterkeeper Alliance to support water conservation for future generations.
Along with the entire spirits industry, we're firmly committed to ensuring the safe, legal and responsible consumption of beverage alcohol. We support and help fund a number of national and local education initiatives alongside groups such as the Federal Trade Commission and run our own responsible consumption campaigns. As an active member of the Distilled Spirits Council of the United States, we're also taking an industry-leading role in developing and enforcing responsible spirits marketing guidelines. For more information, please visit www.discus.org.